The only Smartphone App you will ever need to manage your Advance Care Plan documents
With My Health Care Wishes™ Mobile App your Advance Care Plans are with you 24/7 transforming the dynamics faced in a medical emergency.


Available for Apple & Google Phones
www.myhealthcarewishes.org
My Health Care Wishes
Pro,
Even more functionality
The $3.99 Pro version offers even more functionality, with unlimited storage of people profiles and documents. Store advance directives, living wills, health care powers of attorney (HCPOA, health care proxy), DNR orders, and POLSTs (Physician Orders for Life-Sustaining Treatment).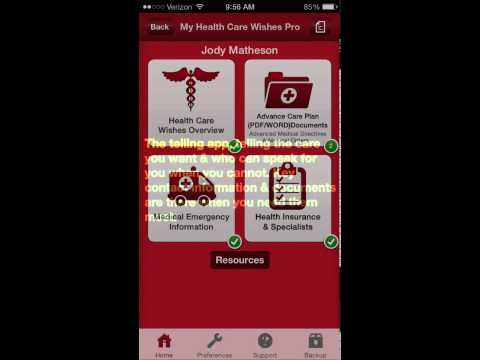 How can My Health Care Wishes work for you?
Assisting a parent
: Let's say your Mom lives in San Francisco and has a health care directive with end-of-life decisions. You're her primary proxy and live in Washington DC. She's on vacation in Boston and rushed to the ER at Mass General Hospital. A My Health Care Wishes wallet card is found stating her proxy has her advance care plan on his iPhone—that's you! You're coaching soccer but with one click you are able to email the documents needed to speak with staff to make key decisions. Crucial moments are saved and you're there in a way never possible before in a medical crisis.